South Pacific Electronics Ltd is using cutting edge technology to advance the gate and door automation technology.
We have always been a privately owned company. Thanks to the vision and dedication of its co-founder, Otto Eigner, South Pacific Electronics grew from 3 employees in 1990 to employing over 45 employees currently.
We develop, manufacture and sell customer orientated gate and door automation products and wireless remote controls. Our manufacturing, research and developments are driven by market and individual requirements of our customers in our modern 1600 square metre factory located on a five acre site in Nadi, Fiji Islands.
We export to Australia, New Zealand, Singapore, Europe and the United States of America. Our manufacturing yield exceeds 99% and our on time performance exceeds 99% with on-site generator backup and the use of Robotic Surface Mount Machines.
South Pacific Electronics product ranges from simple domestic garage doors to high speed double sliding gates for secure sites, remote controls, gate and door accessories and solar panels. Products are manufactured to international standard of IPC-A-610.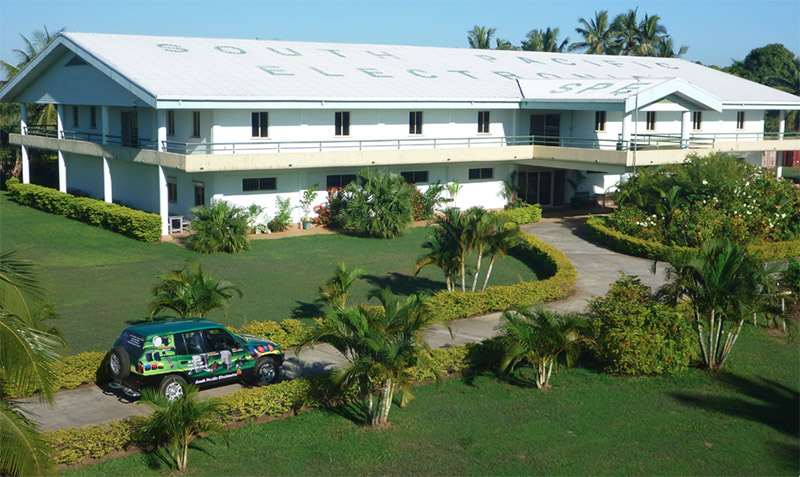 South Pacific Electronics
Modern 1600 square metre factory in Nadi Fiji.
Process Capabilities
We have a very modern facility and a flexible workforce capable of doing sample production runs to orders up to 2000 units per day.
We use a comprehensive range of manufacturing technologies:
Surface Mount Technology
Leaded and Lead-Free Alloys
Thru Hole Assembly
Inspection and Testing
Test and Calibration Systems
Engineering Process Support
RoSH Compliant Components and Production