KEYRING REMOTE CONTROLS
PentaCODE® is not just another garage door rolling code remote. Its concept was designed and developed in Australia by award winning design engineers. Engineers who saw an opportunity to bring out the next generation of rolling code remote controls.
PentaCODE® comes from the five sided shape "Pentagon". Each side represents the five different operating frequencies.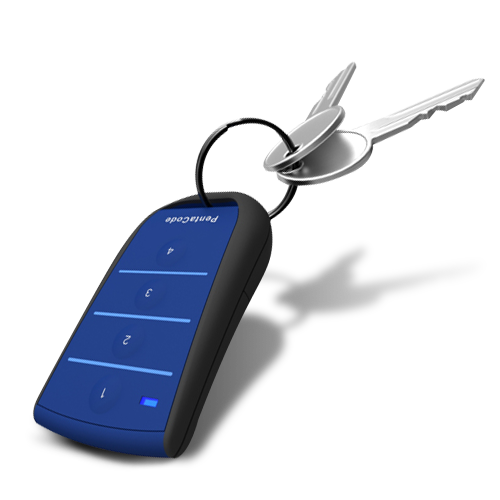 What makes the Pentacode system superior than the normal garage door rolling code remotes?
Over 17 billion code combination making it one of the most secure remote controls on the market.
Uses frequency hopping spread spectrum (FHSS). PentaCODE® remotes simultaneously transmits the encrypted code on five different frequencies. This makes it impossible for your remote control to be interfered or jammed.
Two remotes in one. The PentaCODE® remotes use encrypted code and for people who want to keep it simple, the traditional 12-way dipswitch system is included.
The case, electronics and coding system was designed for harsh and rugged applications.
Service. SPE has been innovating new remote control technologies for over 20 years and our service will be there for many more years to come.
Cost. With our vast experience in remote controls we are able to keep the cost to a very competitive level.
The PentaCODE® remotes are available with 2 or 4 buttons with custom print available for the front labels.
The receiver comes as a plug in type, standalone or enclosed in a case that is weather proof. The enclosed receiver has a built in antenna specially tuned to the 5 operating frequencies. No need for messy installations with external antennas.
| | | |
| --- | --- | --- |
| Part Number | Description | Application |
| PCK43302 | 2-Channel, Keyring Remote. | Automatic gates, garage doors and roller shutters |
| PCK43304 | 4-Channel, Keyring Remote. | Automatic gates, garage doors and roller shutters |